Spay Cats by Five Months to Save More Lives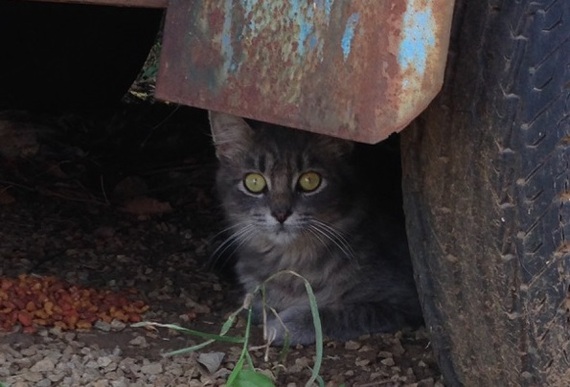 A project in northern Maine that encouraged pet owners to get their cats spayed by five months of age, instead of waiting until the traditional six months of age to have "pets" altered, proved that it is possible to reduce shelter intakes and save lives while not spending a penny more to do so. It is time to take note.
A free-roaming cat surveys a visitor. Photo courtesy Kim Ramsey, Drumright, OK
According to Chu, K., W.M. Anderson, and M.Y. Rieser low-income homes in the US produce the greatest number of unplanned litters, a fact that is reflected in shelter intake records across the US. Fix Felines by Five Months relied on a two prong approach; it informed pet owners about the need to get cats spayed by five, not six, months of age and then provided subsidies to enable people to act on the information that they had received. The cost to the client was just five dollars, male or female. All shelters in the targeted area noted a decline in intakes of unwanted kittens.
Susan Hall is a co-founder of Spay Maine, an organization dedicated to helping pet owners in Maine get their pets spayed or neutered. According to Hall, the campaign to alter cats by five months of age resulted in lowered cat intakes in Aroostook and Piscataquis Counties. At Central Aroostook Humane Society in one year the feline intake dropped an overall 14 percent (kittens were down 28 percent and adult cats were down 6 percent). Two other shelters were able to expand their coverage areas due to decreased kitten/cat intakes.

Cat transporter arrives at the clinic. Photo courtesy Spay Maine.
Hall said that a big part of the success was the change in public awareness. She said, —> Read More