Stoned Drivers At Far Lower Risk Of Crash Than Drunken Drivers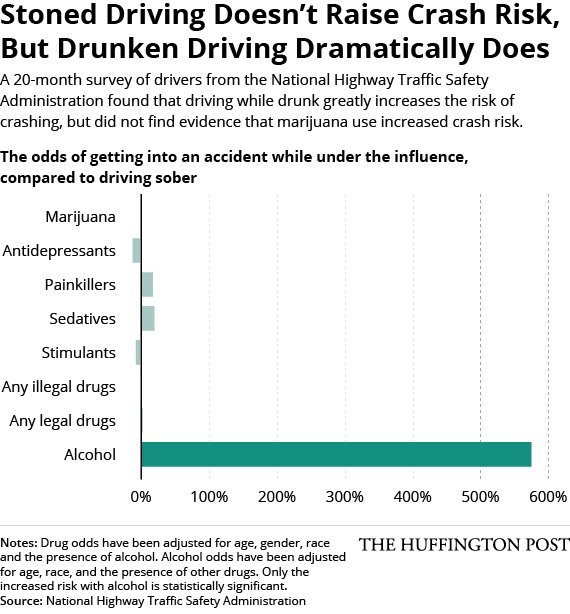 A government study on impaired driving released last week found that drivers who had used marijuana were at a far lower risk of getting into a car accident than drivers who had used alcohol.
The Drug and Alcohol Crash Risk report, produced by the Department of Transportation's National Highway Traffic Safety Administration, found that while drunken driving dramatically increased the risk of getting into an accident, there was no evidence that using marijuana heightened that risk. In fact, after adjusting for age, gender, race and alcohol use, the report found that stoned drivers were no more likely to crash than drivers who were not intoxicated at all.
However, the federal researchers say that their report's findings "do not indicate that drug use by drivers is risk-free," adding that "the study limitations… together with the findings of numerous other studies using different and complementary methods, need to be carefully considered before more definitive conclusions about drug use and crash risk can be reached."
The data show just how dangerous it is to drive while drunk: The risk of crashing while driving with a blood-alcohol concentration of .05 or above is about seven times higher than the risk of crashing while sober. The —> Read More Here