Tammy Plotner Has Passed Away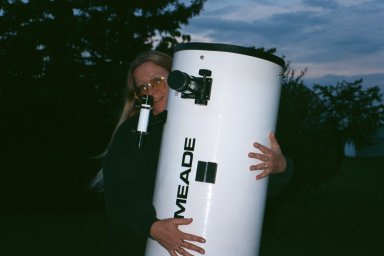 I just got the word that one of our writers, Tammy Plotner, just passed away after a long struggle with MS.
Here's a message from Mike Romine, from the Richland Astronomical Society:
Hi, I'm Mike Romine, the current president of the Richland Astronomical Society, at Warren Rupp Observatory, in Mansfield, Ohio.
This email is to inform you, and I hope you'll pass it along to your readers, that Tammy Plotner passed away Feb. 11, 2015. Her longtime battle with MS finally took it's toll.

Thanks,

Mike
Tammy was the first regular contributor to Universe Today. She started with me in 2004, reporting on what amateur astronomers might see in the night sky using an archaic WebTV to write and send in her stories. When she started, Tammy was… rough. She was enthusiastic, but very wordsy and needed a tremendous amount of editing. But her enthusiasm for the night sky was infectious, and over time, her writing tightened up; wordiness became poetry that described the night sky in amazing detail and made you drag your scope out into the darkness for just a peek.
In 2006, Tammy took things to the next level for us and wrote an actual book. We called it What's Up 2006: —> Read More Here