The Future of the Car Is Electric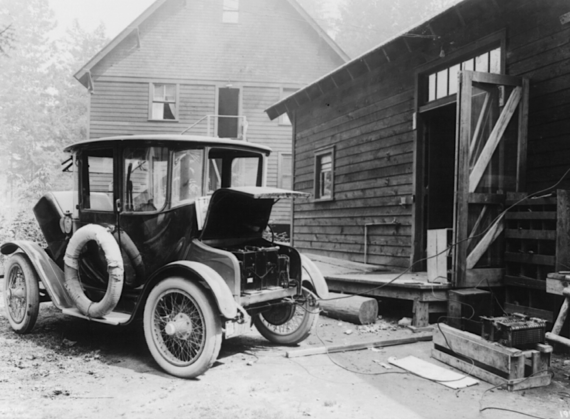 Image by Cress-Dale Photo Co.
The best-selling pamphlet Common Sense by Thomas Paine defined its era, the American Revolution. It inspired people in the North American colonies to fight and declare independence from the British Crown. It was merely 48 pages long, but its impact was tremendous.
In simple language Paine's text appealed to the common man. It was passionate. It was timely. It widened the public discourse. It shattered old ideas, and introduced new ones.
In President George Washington's words, his book was "working a wonderful change in the minds of many men."
To Paine, independence represented an opportunity to re-create the world. It was a chance to get rid of the old, and make way for the new. In his own words,
[W]e have every opportunity and every encouragement before us, to form the noblest, purest Constitution on the face of the earth. We have it in our power to begin the world over again… The birthday of a new world is at hand.
Six months later, on July 4th, 1776, the Declaration of Independence was ratified. Another seven years later, the Treaty of Paris in 1783 established peace between the United States and Great Britain.
A revolution or innovation can only be called in hindsight. Before it materializes as such, it needs to overcome a wall of resistance.
The Arab Spring, which began in Tunisia and later spread to Egypt, was quickly hailed as a successful movement across the Middle East toward democratization. Today we know it was not that easy.
The truth is the status quo is persistent. It takes a long time for old structures to fall apart, and new ones to reign in. There are too many profiting from the status quo.
When Alexander Graham Bell, for example, the inventor of the telephone, tried to sell his invention and patents, he was —> Read More