The Last Living Witness – Memory & Deceit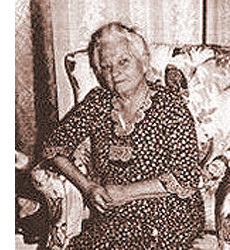 In 1974, Gustave Whitehead's supporters were excited to learn there was still a person living who said she had witnessed Whitehead giving a "demonstration" of his flying machine in the early 1900's.
Elizabeth (Papp) Koteles (b. Sep. 20, 1871, in Hungary, d. Oct. 8, 1974, in Bridgeport, Conn.) and her husband, Stephen, witnessed one of Whitehead's "demonstrations" (her word) in 1901 or 1902 or 1903 or later – the date is uncertain.
Mrs. Koteles and her husband lived adjacent to the Gustave Whitehead family in 1901, whose rear yard abutted the Koteles' yard. The Whiteheads were cash customers at the Koteles' grocery store – Mrs. Koteles recalled them being "… nice people. Very nice."
In her recent book Gustave Whitehead – First in Flight, Susan O'Dwyer-Brinchman devotes nearly two pages in Chapter 6, "Key Testimonies," to her father's 1974 interview of Elizabeth Koteles, who was then in her 90's and by all accounts aware, although hard of hearing.
Among others present at Mrs. Koteles' home in Bridgeport, Connecticut, during the February 2, 1974, interview were USAFR Maj. William J. O'Dwyer, Director of the Gustave Whitehead Research Committee, and father of Susan O'Dwyer-Brinchman; Jesse Davidson, member of the American Aviation Historical Society and the Aviation/Space Writers Association; Harvey P. Lippincott, past president of the Connecticut Aeronautical Historical Association; and Mrs. Koteles' son, son-in-law, and daughter.
Exactly what Mrs. Koteles and her husband witnessed in the early 1900's is unfortunately difficult to discern, since the records of her interviews (one in 1965 and three in 1974) contain several ambiguities and serious contradictions, and are in conflict with the two affidavits she signed on August 1, 1974, two months before her death on October 8th.
POWERED AIRCRAFT or GLIDER ?
On page 212 of her book, Ms. O'Dwyer-Brinchman writes —> Read More