The Paris Climate Agreement Has Set the Path. Now We Have to Walk It.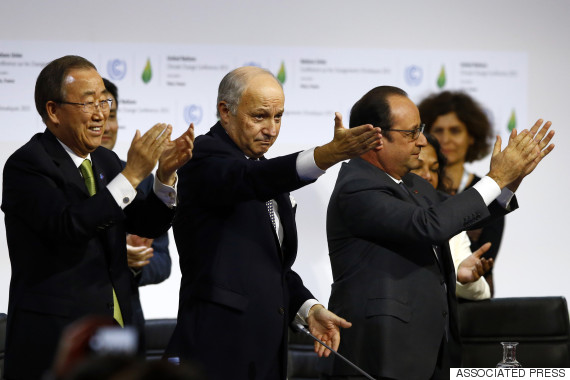 Late into the night last Friday, and for several hours on Saturday morning, the draft Paris climate agreement still very much hung in the balance. Negotiations during the previous two weeks were intense. To the end, the distance between different countries seemed vast and possibly unbridgeable. The countries most vulnerable to climate change lived in fear of a "big-emitter stitch-up" — a toothless agreement that papered over gaps with empty platitudes, providing political cover for everyone to claim something had been done in Paris but without truly requiring any country to do more than the absolute minimum.
Such a result would have been a death sentence for the most climate-vulnerable countries, and they weren't about to take it lying down. Tony de Brum, the foreign minister of the tiny, low-lying Marshall Islands, had laid plans to prevent such a result. Throughout 2015, he convened a number of informal gatherings of ministers from traditional progressive allies such as Colombia, Gambia and the European Union to strategize for an ambitious result. As the conference progressed, he threw it open to others, labeling it the "high ambition coalition," and it gradually took in the United States, Brazil, Canada and others. These countries coalesced around demands for the agreement to include a warming limit of 1.5 degrees Celsius and the necessary mechanisms to get there. Marching arm in arm into the plenary hall on the final day, the message could not have been clearer: it was not only those in the streets of Paris, New York and elsewhere who were demanding a strong agreement, but a groundswell of responsible countries as well.
Ultimately, however, the fate of the Paris agreement lay in the hands of French Foreign Minister Laurent Fabius. As host of the conference, he had final control —> Read More