The 'Rising Billion' New Consumers Will Arrive by 2020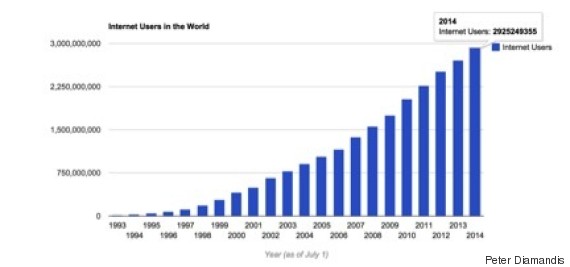 The most dramatic (positive) change in our global economy is about to occur between 2016 and 2020.
Three to 5 billion new consumers, who have never purchased anything, never uploaded anything and never invented and sold anything, are about to come online and provide a mega-surge to the global economy.
While most of these individuals are in Africa, India, China and the developing world, and their income is low, when aggregated, this represents tens of trillions of new dollars flowing into the global economy. . . and no one is talking about it.
I call this group the "Rising Billions."
What are you going to sell to them?
How are they going to compete with you?
The Rising Billions are not coming online like we did 20 years ago with a 9600 modem on AOL. They're coming online with a 1 Mbps connection and access to the world's information on Google, cloud 3D printing, Amazon Web Services, artificial intelligence with Watson, crowdfunding, crowdsourcing and more.
This is a blog about how the Rising Billions are connecting and the implications to you, your industry and our global economy.
The Technology Connecting the World
While the Internet has been extraordinary, it has only until recently connected the wealthiest.
In 2010, 1.8 billion people were connected.
Today, five years later, about 2.8 billion are connected. . .
In other words, on a planet with a 7+ billion population, 4+ billion people still don't have access to the Internet.
But by 2020, I expect the entire world will be connected.
Here are the four major efforts, deploying tens of billions of dollars to make this happen, that you should know about.
A few weeks ago, Facebook's Mark Zuckerberg announced, "As part of our Internet.org effort to connect the world, we've designed unmanned aircraft that can beam Internet access —> Read More