The Shroud Of Turin Goes On Display In Italian Cathedral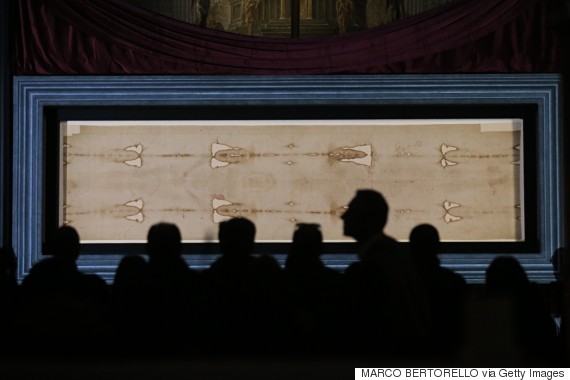 The Shroud of Turin is back.
Believers and skeptics alike have another chance to see the controversial Christian relic, which went on display in Turin, Italy, this Sunday, ending a five-year hiatus from the spotlight.
Some say the 14-foot piece of linen is Christ's burial cloth. They point to what appears to be the imprinted image of a man bearing wounds from a crucifixion. Others say the whole thing is a medieval forgery. Regardless, the shroud has remained a wildly popular attraction for pilgrims from around the world.
More than 1 million visitors have already reserved tickets online to see the shroud, according to Turin's mayor. The last public viewing of the shroud was in 2010.
Pope Francis will be among those making a pilgrimage to Turin to pray. He's scheduled a private viewing with his Italian relatives on June 21, The Guardian reports.
In 1988, researchers from three universities conducted carbon-14 testing of the relic. The researchers dated fibers from the shroud to the years 1260 and 1390 — more than 1,000 years after Christ's crucifixion.
A decade after the researchers' carbon tests, Anastasio Alberto Ballestro, who had been Turin's cardinal archbishop in 1988, called the results of these tests an "overseas Masonic plot" meant to discredit the Roman Catholic Church.
In a 2011 book, British scholar Charles Freeman suggested that the shroud was created for medieval Easter rituals. The earliest mention of the shroud he could find was in 1355, when the cloth was displayed at a chapel in Lirey, France.
"On Easter morning the gospel accounts of the resurrection would be re-enacted with 'disciples' acting out a presentation in which they would enter a makeshift tomb and bring out the grave clothes to show that Christ had indeed —> Read More