The Solar System's 'Yearbook' is About to Get Filled In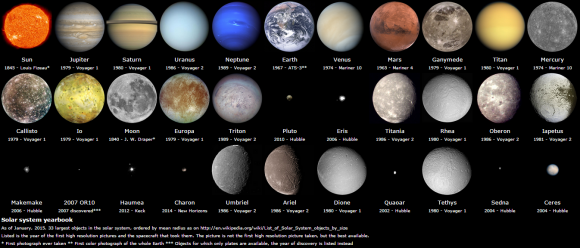 The 33 largest objects in our Solar System, ordered by mean radius, using the best images available as of January, 2015. Credit and copyright: Radu Stoicescu.
Lined up like familiar faces in your high school yearbook, here are images of the 33 largest objects in the Solar System, ordered in size by mean radius. Engineer Radu Stoicescu put this great graphic together, using the highest resolution images available for each body. Nine of these objects have not yet been visited by a spacecraft. Later this year, we'll visit three of them and be able to add better images of Ceres, Pluto and Charon. It might be a while until the remaining six get closeups.
"This summer, for the first time since 1989," Stoicescu noted on reddit, "we will add 3 high resolution pictures to this collection, then, for the rest of our lives, we are not going to see anything larger than 400 km in high definition for the first time. It is sad and exciting at the same time."
(…)
Read the rest of The Solar System's 'Yearbook' is About to Get Filled In (256 words)
---
© nancy for Universe Today, 2015. |
Permalink |
No comment —> Read More Here