#TheDress Was Actually A Mother-Of-The-Bride Dress (And P.S. It's Black And Blue)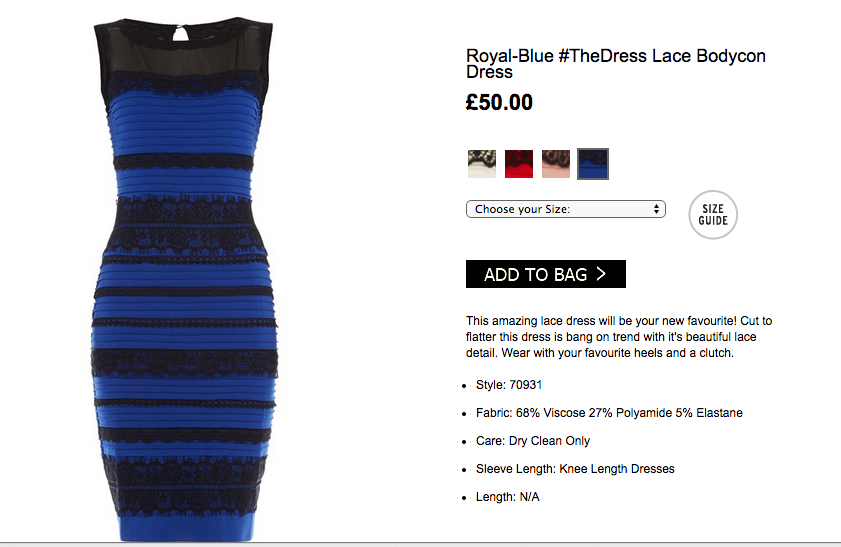 Turns out, the black and blue (or, perhaps, white and gold) dress that has undoubtedly taken over your newsfeed in the last 24 hours actually began as one woman's mother-of-the-bride dress.
The viral dress belongs to a British mother named Cecilia Bleasdale. She wore it to daughter Grace Johnston's wedding earlier this month, according to the Daily Mail. (See the photo here.)
via Roman Originals
It all started when Bleasdale sent a photo of the dress, purchased at U.K. retailer Roman Originals, to the bride and later to her other daughter, Angie McPhee.
"Mum sent it to Grace to give the dress a thumbs up or thumbs down," McPhee told the Daily Mail. "It was sent originally to my sister, then my mum sent the picture to me, and Grace said, 'Why is she wearing white and gold to the wedding?' We were shocked my mum had chosen a light-colored dress."
According to Business Insider, Johnston and her then-fiancé also disagreed about the color of the dress, so they posted a photo of it to Facebook where the debate continued. That's when friend and 21-year-old Scottish —> Read More Here