There's a crack forming on Rosetta's 67P. Is it breaking up?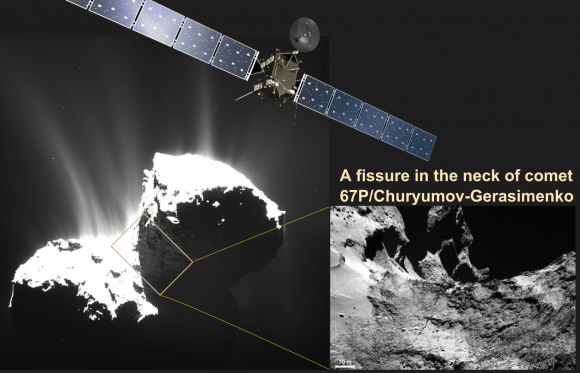 A fissure spanning over 100 meters across the neck of Rosetta's comet 67P raises the question of if, or when, the comet will breakup. The fissure is part of released studies by Rosetta scientists in the Journal Science (Image Credits: ESA/Rosetta, Illustration, T.Reyes)
Not all comets breakup as they vent and age, but for Rosetta's comet 67P, the Rubber Duckie comet, a crack in the neck raises concerns. Some comets may just fizzle and uniformly expel their volatiles throughout their surfaces. They may become like puffballs, shrink some but remain intact.
Comet 67P is the other extreme. The expulsion of volatile material has led to a shape and a point of no return; it is destined to break in two. Songwriter Neil Sedaka exclaimed, "Breaking Up is Hard to Do," but for comet's this may be the norm. The fissure is part of the analysis in a new set of science papers published this week.
(…)
Read the rest of There's a crack forming on Rosetta's 67P. Is it breaking up? (998 words)
---
© Tim Reyes for Universe Today, 2015. |
Permalink |
No comment |

Post tags: 67P, 67P/Churyumov-Gerasimenko, Crack, esa, fissure, <a target="_blank" —> Read More Here