These Adorable Beagles Got A Second Chance, But Their Story Is Part Of A Much Bigger Problem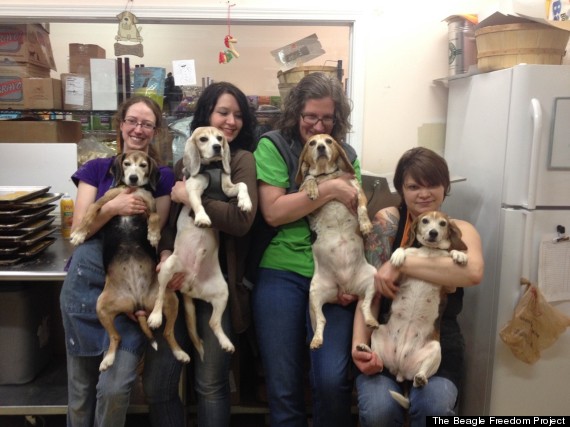 Few things prompt you to grab a hankie quite like seeing adorable animals taste freedom for the first time.
On Wednesday, a CBS affiliate in Chicago shared the story of four beagles getting a new lease on life after being released from unnamed research labs into the care of the Beagle Freedom Project, an animal advocacy group.
The four beagles — Casper, Jack, Bandit and Sparky — were freed in April and were fostered and ultimately adopted by families in the Chicago area. And while Shannon Keith, president and founder of the Beagle Freedom Project, said the animals are happily adjusting to their new homes, the conditions they left behind are still a reality for thousands of animals that have yet to be released.
Beagle Freedom Project workers hold the "Chicago Four" released earlier this year.
"Animal testing is still as big as it ever was," Keith told The Huffington Post. "There are hundreds of thousands of animals in the U.S. being tested. Every animal you can think of is being used — rats to rabbits, to dogs and cats, horses, goats, pigs."
Beagles are the most common dog breed used for animal testing because they're "docile, friendly and —> Read More Here