These Haunting Paintings Show What Hawaii's Volcanoes Looked Like Before Color Photography

Jules Tavernier, "An Eruption," late 1880s
We've all heard of the Hudson River School and the Barbizon School, but how about the Volcano School?
In the 1880s and 1890s, Mauna Loa — Hawaii's biggest volcano — kicked off an eruption that brought lava closer to the town of Hilo than ever before.
Hawaii residents and tourists alike flocked to the Big Island for a chance to see the eerie orange glow over the city of Hilo, and — in the days before color photography — painters were among the most eager to witness and recreate the explosive lava plumes and vibrant flows.
Painters such as Jules Tavernier, Charles Furneaux and Joseph D. Strong — buoyed by a growing commercial interest in landscape paintings — traveled to Hawaii and trekked across the rugged terrain on multi-day journeys. The sulfuric gases and intense heat of the volcanic vents made it impossible to set up an easel and canvas on site, but the artists sketched and took mental photographs that they then recreated in their studios.
Known today as the Volcano School, their work is Hawaii's version of plein air painting, and it brought the ghostly and wondrous images of Hawaii's volcanic eruptions to the masses 135 years ago. According to Encounters with Paradise: Views of Hawaii and its People, by David Forbes, island printmaker Huc-Mazelet Luquiens considered this period "a well-marked awakening… a little Hawaiian renaissance."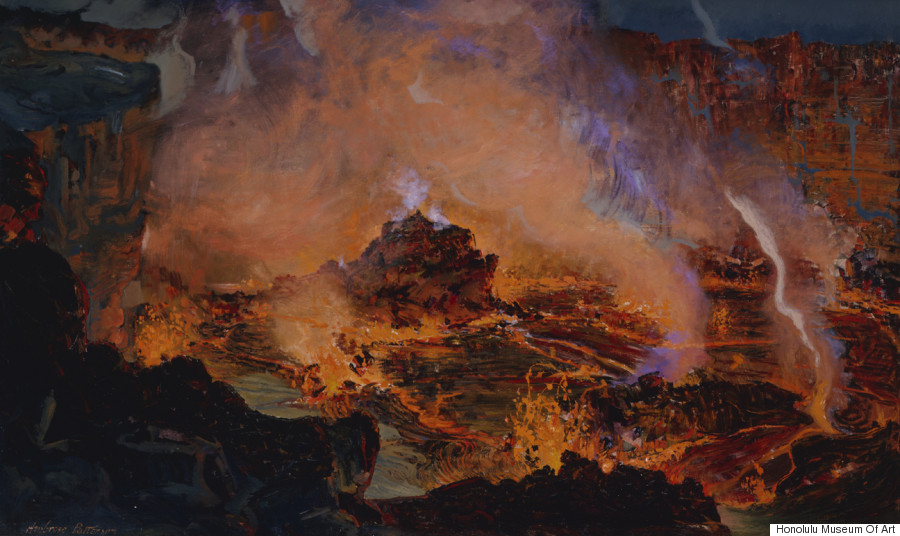 Ambrose Patterson, "Mount Kilauea, The House of Everlasting Fire," 1917
Of all the "old masters" of Hawaii painting, Tavernier is considered the most famous. A renowned and accomplished painter of landscapes of the American West (he could paint with both hands at the same time), the Frenchman was a tempestuous drinker and an adventurer. He was described as volatile, explosive —> Read More