This Comparison of Comet 67/P With Other Solar System Bodies Will Blow Your Mind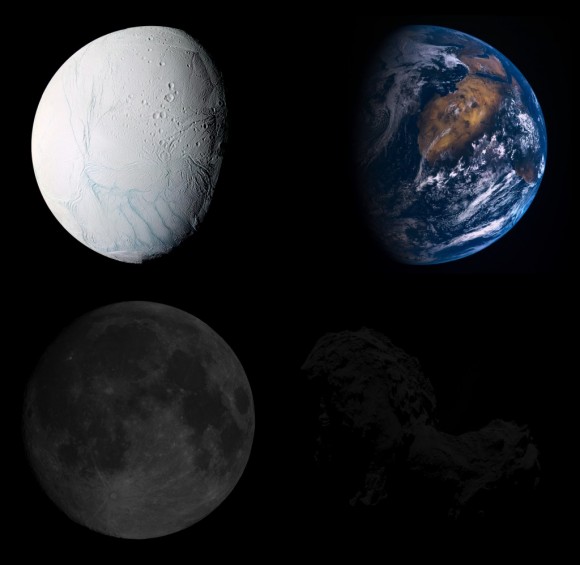 Can you see the comet? Four solar system objects adjusted for true brightness counterclockwise from the upper right: Earth, Enceladus, the Moon, and Comet 67/P. Credit: ESA/Rosetta Blog/NASA/JPL/Space Science Institute (Enceladus); ESA/Rosetta/MPS for OSIRIS Team MPS/UPD/LAM/IAA/RSSD/INTA/ UPM/DASP/IDA and Gordan Ugarkovich (Earth); Robert Vanderbei, Princeton University (Moon); ESA/Rosetta/NAVCAM (67P/C-G).
There's darkness out there in the cold corners of the solar system.
And we're not talking about a Lovecraftian darkness, the kind that would summon Cthulhu himself. We're talking of celestial bodies that are, well. So black, they make a Spinal Tap album cover blinding by comparison.(…)
Read the rest of This Comparison of Comet 67/P With Other Solar System Bodies Will Blow Your Mind (889 words)
---
© David Dickinson for Universe Today, 2015. |
Permalink |
No comment |

Post tags: 67/P albedo, albedo, cthulhu, global dimming, philae lander, snow albedo, tar albedo, venus daytime

Feed enhanced by Better Feed from Ozh