This Indian City Developed A Heat Action Plan To Protect Vulnerable Citizens Amid Brutal Temperatures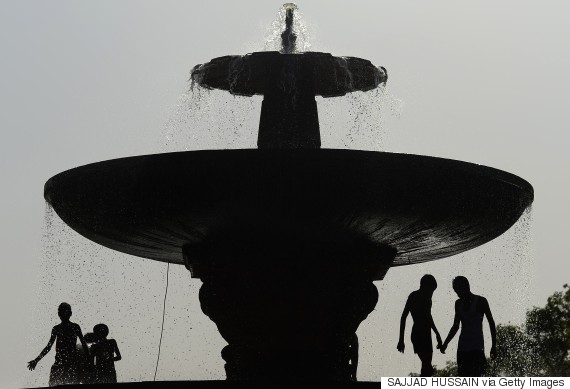 By Nita Bhalla
NEW DELHI (Thomson Reuters Foundation) – Hundreds of deaths caused by an extreme heat wave in India could have been prevented if authorities followed the example set by Ahmedabad which introduced measures such as cooling spaces to protect citizens from the rising mercury, climate experts said.
At least 1,300 people have died in northern and southern India over the past week, with temperatures over 46 Celsius (114 Fahrenheit) baking states such as Andhra Pradesh and Telangana as well as the capital New Delhi.
Doctors' leave has been canceled to help cope with the sick flooding into hospitals and clinics, complaining of headaches, dizziness and fever. Most of the deaths have been of construction workers, homeless people and the elderly.
But with the threat of more frequent heatwaves as a result of climate change, experts say India must recognize rising temperatures as a natural disaster, just like floods or earthquakes, and have a strategy to protect vulnerable people.
"The spiking temperatures underscore the need for local heat adaptation plans and early warning systems to reduce the health effects of heat stress and increase resilience in local communities to rising temperatures," said Anjali Jaiswal from the U.S.-based Natural Resources Defense Council (NRDC).
"Ahmedabad's Heat Action Plan – South Asia's first early warning system against extreme heatwaves – is tailored to help protect the city's vulnerable communities during these disasters."
After a heatwave hit Ahmedabad, a western city of 5.5 million people, in May 2010, killing over 1,300 people, local authorities mapped areas with "high-risk" populations including slums, as part of an action plan.
They also built up public awareness of the risks of high temperatures and set up "cooling spaces" in temples, public buildings and malls in the sizzling summer months.
Indian children play in a fountain near India Gate amid soaring temperatures in New Delhi on May —> Read More