This is What War (and Borders) Look Like From Space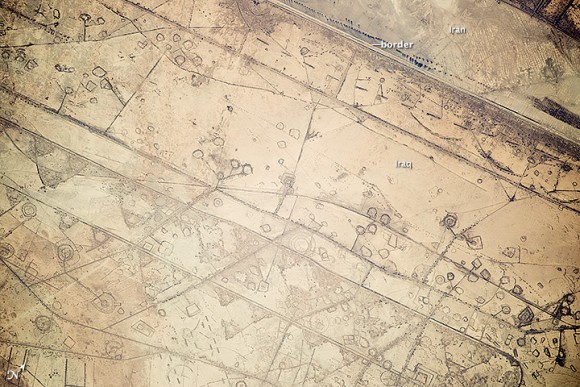 This image, taken by astronauts on the International Space Station on Nov. 7, 2014, shows patterns of fortification along the Iraq-Iran border. Credit: NASA/Expedition 41.
There's an oft-used idiom that you can't see political borders from space, but we've known for a while it's no longer true. Between higher resolution cameras and the increase in human activity, there have been several examples of borders visible from space. Here's one more.
Astronauts aboard the International Space Station took this photograph in November of 2014 of a 20-kilometer (12-mile) stretch of the Iraq-Iran border, near the coast of the Persian Gulf. Clearly visible is the border between the two countries, along with signs of fortification: circular gun emplacements, systems of large curved earthworks and straight connecting roads that run parallel to the border.
(…)
Read the rest of This is What War (and Borders) Look Like From Space (280 words)
---
© nancy for Universe Today, 2015. |
Permalink |
No comment |

Post tags: Earth, Earth Observation, International Space Station (ISS), Iran, iraq, Ron Garan, satellite photos

Feed enhanced by Better Feed from Ozh