This Is Why Women Crave Chocolate, Men Want A Burger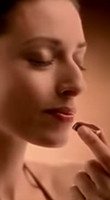 Men love meat and ladies love sweets. Right? These stereotypes are near-effortless to buy into, particularly in the U.S., where marketers have played them hard, and consumers have adopted them as their own preferences and truths.
The perception is as follows: Women are to subsist on salad (and chocolate, sometimes) and men are to fill their plates with meat and savory dishes.
Just take a glance at the chocolate advertisements below.
(From left to right: Frames from TV advertisements for Dove, Ghiradelli, Hershey and Godiva. Click on each individual photo to watch the commercial in full.)
In all four commercials, chocolate is branded as a sinful treat that women (thin, attractive women — but that's a topic for another day) consume because they just can't resist.
And here, four masculine meat commercials.
(From left to right: Frames from TV advertisements for Hungry Man, Burger King, Weber Grills and McDonald's. Click on each individual photo to watch the commercial in full.)
In these ads, men are either behind —> Read More Here