This Proposal From Space Will Warm Your Nerdy Little Heart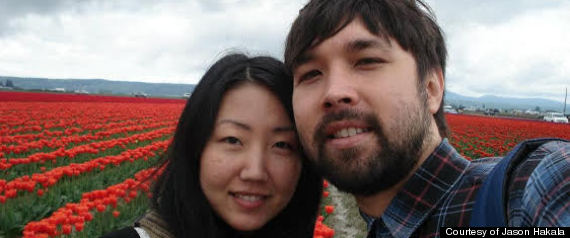 One Seattle man took his love for his girlfriend to new heights – literally – by executing a marriage proposal from 90,000 feet in the air.
In 2012, Jason Hakala of Cut Video (the same folks that brought you the viral pot-smoking grannies video) and a few of his friends planned to release a weather balloon into space to honor the 50th anniversary of John Glenn's orbit around the earth. Jason had already been thinking about popping the question to his girlfriend Stella at that time and thought it would be cool to incorporate a proposal into the launch mission.
"Initially that is what it was — a tribute video to space exploration with the addition of my proposal video," he told The Huffington Post via email. "But later it became more about the proposal. I think there is something romantic about it, in a very nerdy and unique way."
Jason and Stella
Jason and his team built a structure using PVC pipe and attached the weather balloon, an iPhone, a GoPro and a GPS unit, which they launched from a field three hours east of Seattle. The GoPro was pointed towards the iPhone as —> Read More Here