Two Stars On A Death Spiral Set To Detonate As A Supernova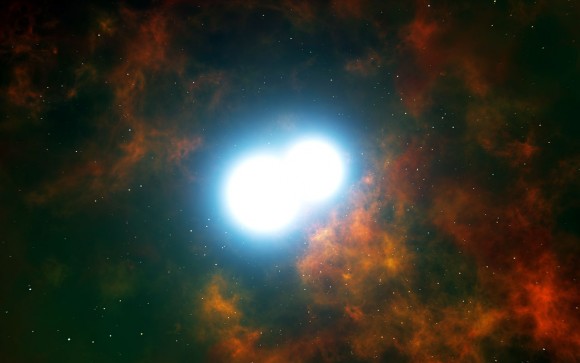 This artist's impression shows the central part of the planetary nebula Henize 2-428. The core of this unique object consists of two white dwarf stars, each with a mass a little less than that of the Sun. They are expected to slowly draw closer to each other and merge in around 700 million years. This event will create a dazzling supernova of Type Ia and destroy both stars. Credit: ESO/L. Calçada
Two white dwarfs circle around one other, locked in a fatal tango. With an intimate orbit and a hefty combined mass, the pair is ultimately destined to collide, merge, and erupt in a titanic explosion: a Type Ia supernova.
Or so goes the theory behind the infamous "standard candles" of cosmology.
Now, in a paper published in today's issue of Nature, a team of astronomers have announced observational support for such an arrangement – two massive white dwarf stars that appear to be on track for a very explosive demise.
(…)
Read the rest of Two Stars On A Death Spiral Set To Detonate As A Supernova (435 words)
---
© Vanessa Janek for Universe Today, 2015. |
Permalink |
No comment |

Post tags: chandrasekhar limit, ESO, nebula, —> Read More Here