U.S. Flu Numbers At Epidemic Threshold, Say CDC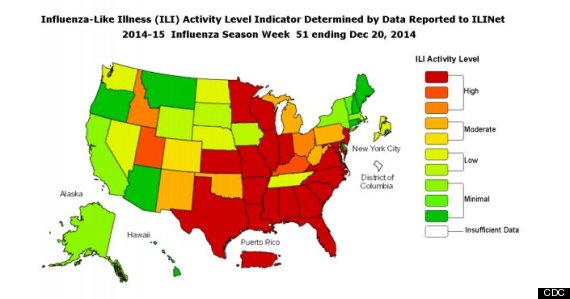 Flu season is in full swing in the United States, and the proportion of deaths related to flu infections have reached epidemic threshold, according to a report from the Centers for Disease Control and Prevention.
According to data that came from a 122-city fatality reporting system, 6.8 percent of all deaths reported during the 51st week of the year (ending Dec. 20) were related to pneumonia and influenza. Four of those fatalities were pediatric patients, which makes a total of 15 pediatric deaths related to the flu so far for the 2014-2015 flu season beginning Oct. 1, noted the authors of the CDC report.
The report also noted that there have been 2,643 lab-confirmed flu hospitalizations for this flu season so far, with an overall hospitalization rate of 9.7 per 100,000 population. The highest hospitalization rates occur in senior citizens (people over 65 years old) at 38.3 per 100,000 population, as well as very small children (ages zero to four), at 13.4 hospitalizations per 100,000 population.
In sum, more than half the country (28 states plus Puerto Rico) are reporting moderate to high levels of flu activity.
While the numbers may seem scary, this is in fact "a —> Read More Here