Vote for Your Favorite "Nobel-Worthy" Scientists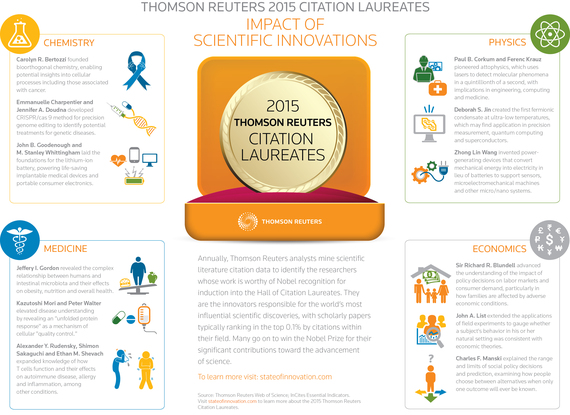 Thomson Reuters Selects Its Annual Citation Laureates
Many of the world's most accomplished scientists might find sleep a bit difficult during the week of October 5th. They know that, beginning on that Monday and over the following days, the calls go out from the Nobel Prize committees, informing a select few researchers that they have won science's highest honor, signaling that their lives will never be the same.
Annually since 2002, in honor of the Nobel Prizes, Thomson Reuters has presented a new group of Download this infographic to learn more about the 2015 Citation Laureates.
For another year, publication and citation data on scientific research from Thomson Reuters Web of Science, which covers the sciences, social sciences, and arts and humanities, have produced a new batch of Nobel-worthy names.
The 2015 class of Citation Laureates joins an elite corps of previous picks. Most still await the call from Stockholm, but many have fulfilled the prediction suggested by their quantifiably influential work. In fact, since 2002, 37 Citation Laureates have gone on to win a Nobel Prize. That number might well rise this year–either from this newest group or from previous selections.
This year's predictions adds a new element: a "People's Choice Poll," allowing one and all to choose from among all the previously selected Citation Laureates and to register their votes for this year's Nobel Prizes in the categories of Physiology or Medicine, Chemistry, Physics, and Economics. Anyone interested in voting for their own Nobel picks will find the "People's Choice Poll" at Thomson Reuters State of Innovation. Try your hand at predicting this year's prizes.
Also notable this year is the presence of four women among the new Citation Laureates. Since 1901, only 17 —> Read More