Walking on Arctic Ice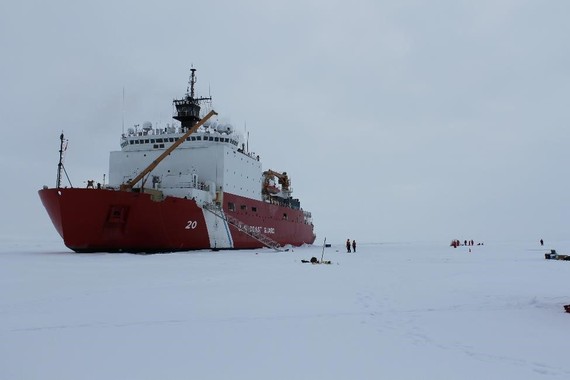 A view of the USCGC Healy from the ice. The U.S. GEOTRACES program sampled their first ice station on September 7, 2015 near the North Pole.
As I stepped onto the ice with feet wrapped in wool socks and insulated boots, my friend Pete pointed to the ground and said "there's two miles of ocean below us right now." The 2 meter thick ice sheet was covered with a fresh layer of snow and felt like terra firma rather than a fluid surface.
After weeks of searching, the USCGC Healy has finally encountered ice floes large enough to safely occupy. Our goal was to sample 10 ice stations, however, as of September 15 we have only completed 4 and our chances of sampling more will decrease in the coming weeks as we move south towards open water. The ice we have encountered is surprisingly thin, pocketed with open leads and first-year ice rather than the solid multi-year ice we had anticipated. It's likely that wind and surface currents pushed thick multi-year ice towards the eastern side of the basin beyond the extent of our cruise transect. However, thin ice in the western Arctic could also be a sign of decreasing ice cover. Ice extent in the Arctic has been decreasing by an average rate of 11% per decade since observations began in 1979; this winter the lowest ice extent in history was measured by satellite imagery just five months before our expedition began. Scientists predict that summers in the Arctic Ocean will be ice-free by 2080. Complete loss of ice in the Arctic Ocean each summer will significantly change the habitat of many marine mammals and potentially alter major geochemical cycles in the basin, including the cycling of toxic —> Read More