Watch Octopuses Meet for Blind Date, Tricky Sex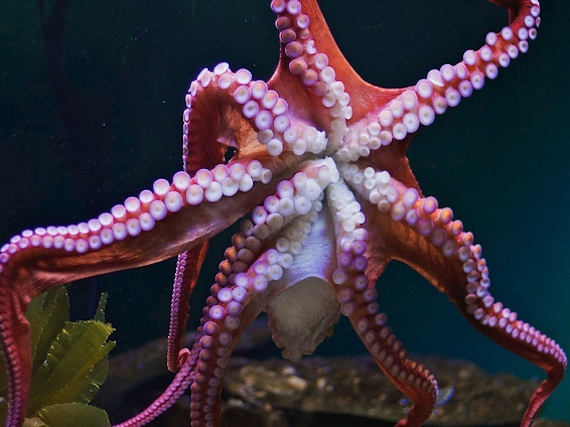 Image courtesy of Creative Commons/Michael Bentley/Flickr
On February 14, Hazel and Franklin will meet for a blind date. There is a good chance things will get heavy; it will likely be the first — and possibly the last — chance either has for sex in their adult lives. There is also a small chance Franklin will get eaten.
A team of scientists is bringing Hazel and Franklin, two lonely adult octopuses, together for a brief tryst this Valentine's Day. And, yes, you can watch.
These three-year-old, 40-plus-pound giant Pacific octopuses (Enteroctopus dofleini) will be introduced during the Seattle Aquarium's annual "Octopus Blind Date." The large and powerful cephalopods, which can be cannibalistic, are usually housed separately. But on Saturday, the barrier between their watery enclosures will come down, and the two will be able to meet, sucker to sucker. Their public poikilothermic rendezvous is a hot ticket at the aquarium's Octopus Week — and is also streamed online via webcam (starting at 3 p.m. EST, noon PST) for curious viewers across the globe.
In the wild these intelligent and sneaky animals usually pair off only once in their short, three to —> Read More Here