Welcome to Mars! – Hi-SEAS and Mars Society Kick Off New Missions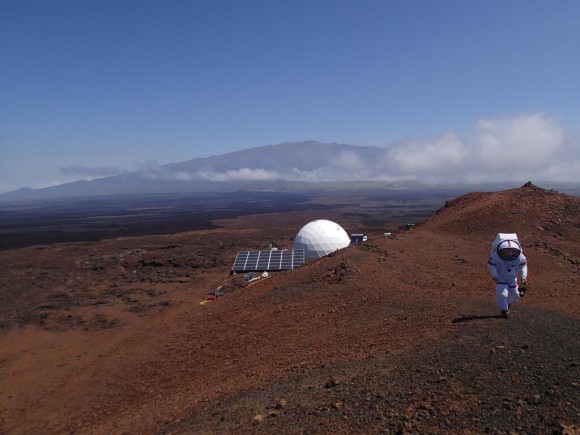 The Hi-SEAS habitat module on the slopes of Mauna Loa, Hawaii. Credit: Hi-SEAS
The Hawaii Space Exploration Analog and Simulation (aka. Hi-SEAS) – a human spaceflight analog for Mars located on the slopes of the Mauna Loa volcano in Hawaii – just kicked off its third research mission designed to simulate manned missions on Mars. This began with the announcement of the new crew on Oct. 15th, 2014,
The six-member team includes Martha Lenio (Commander), Allen Mirkadyrov, Sophie Milam, Neil Sheibelhut, Jocelyn Dunn, and Zak Wilson, with Ed Fix and Micheal Castro in Reserve. This crew will spend the next 254 days living in conditions that closely resemble those present on the Martian surface.
Located at an elevation of 2500 meters (8,200 feet) above sea level, the analog site is located in a dry, rocky environment that is very cold and subject to very little precipitation. While there, the crew of Mission Three will conduct detailed research studies to determine what is required to sustain a space flight crew during an extended mission to Mars and while living on Mars.
Research into food, crew dynamics, behaviors, roles and performance, and other aspects of space flight and a mission on Mars itself is the primary —> Read More Here