What Could Explain the Mysterious Ring in Antarctica?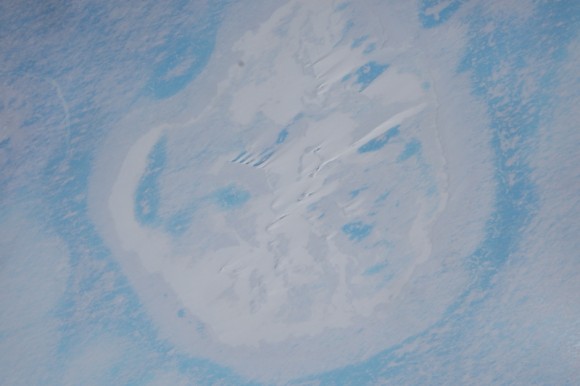 Aerial photo of the crater site, taken with the Polar 6 board camera 7000 feet above the ice shelf. Credit: Alfred-Wegener-Institut
Ever since its discovery was announced earlier this year, the 3 km-wide ring structure discovered on the of Antarctica has been a source of significant interest and speculation. Initially, the discovery was seen as little more than a happy accident that occurred during a survey of East Antarctica by a WEGAS (West-East Gondwana Amalgamation and its Separation) team from the Alfred Wegener Institute.
However, after the team was interviewed by the Brussels-based International Polar Foundation, news of the find and its possible implication spread like wildfire. Initial theories for the possible origin of the ring indicated that it could be the result of the impact of a large meteor. However, since the news broke, team leader Olaf Eisen has offered an alternative explanation: that the ring structure is in fact the result of other ice-shelf processes.
(…)
Read the rest of What Could Explain the Mysterious Ring in Antarctica? (830 words)
---
© mwill for Universe Today, 2015. |
Permalink |
No comment |

Post tags: Alfred Wegener Institute, Antarctic ring structure, antarctica, AWI, <a target="_blank" —> Read More Here