What The Hell Is Celtuce? All About The Cool Obscure Veggie Of The Moment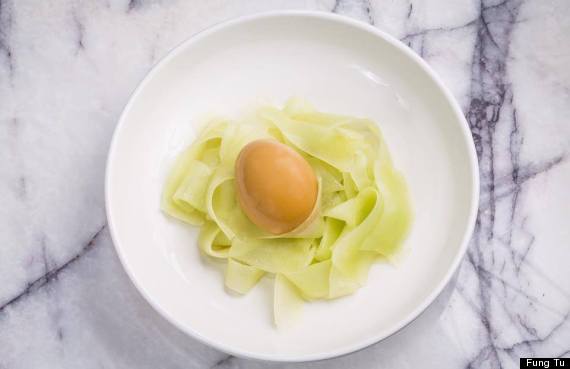 The first time I saw celtuce listed on a restaurant menu — last winter, at modern Chinese restaurant Fung Tu in New York's Lower East Side — I thought I knew what it was. Maybe because the name sounded like a portmanteau of "celery" and "lettuce," two of the most familiar vegetables around. Or maybe just because being a professional food writer gave me the arrogant assumption that I was familiar with every single vegetable on earth. I may even have conflated celtuce, on some dim level, with cardoons.
Still, I have to admit that I didn't have a clear idea of what to expect when I ordered it. And that when a plate of what looked like pale green, slightly translucent pappardelle arrived, I was surprised. I had never seen anything quite like it before.
Fung Tu in Manhattan serves long thin strips of stir-fried celtuce with a soft-cooked egg on top.
One bite told me I'd never eaten anything quite like it either. The texture of the vegetable — and the waiter assured me it was a vegetable — reminded me of cooked leek. But it also had the homogeneity of a noodle and some of the crunch —> Read More Here