When Two Supermassive Black Holes Merge, It's a Galactic Train Wreck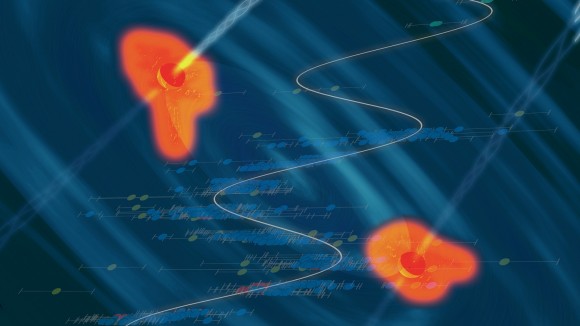 An artist's conception of a black hole binary in a heart of a quasar, with the data showing the periodic variability superposed. Image Credit: Santiago Lombeyda / Caltech Center for Data-Driven Discovery
Most large galaxies harbor central supermassive black holes with masses equivalent to millions, or even billions, of Suns. Some, like the one in the center of the Milky Way Galaxy, lie quiet. Others, known as quasars, chow down on so much gas they outshine their host galaxies and are even visible across the Universe.
Although their brilliant light varies across all wavelengths, it does so randomly — there's no regularity in the peaks and dips of brightness. Now Matthew Graham from Caltech and his colleagues have found an exception to the rule.
Quasar PG 1302-102 shows an unusual repeating light signature that looks like a sinusoidal curve. Astronomers think hidden behind the light are two supermassive black holes in the final phases of a merger — something theoretically predicted but never before seen. If the theory holds, astronomers might be able to witness a collision of incredible scale.
(…)
Read the rest of When Two Supermassive Black Holes Merge, It's a Galactic Train Wreck (579 words)
---
© Shannon Hall for Universe —> Read More Here