Why Sharks Are Attacking More People Than Ever in Hawaii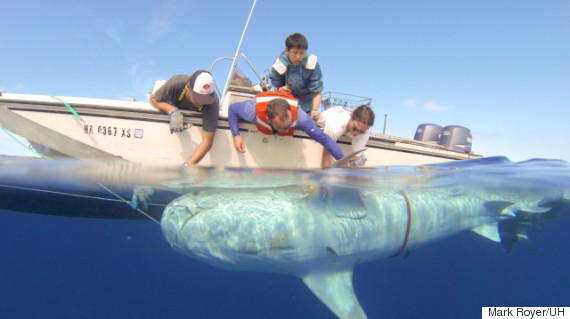 Shark attacks are increasing in Hawaii, especially off Maui, and scientists think they have figured out why.
A report due to be released next month by University of Hawaii marine biologists basically concludes that a burgeoning recreation industry is butting up against shark-friendly environmental conditions to create a double whammy of sorts, at least for the human population.
"The coastal habitats around Maui are optimum habitats for tiger sharks, there's nothing unnatural happening," says Carl Meyer, a shark researcher at the Hawaii Institute of Marine Biology. "It's just that we as people have inadvertently created these high-use, recreational ocean locations right next to these habitats that large sharks have been using for eons."
Meyer and other biologists have been studying the issue of increasing shark attacks at the request of the Hawaii Department of Land and Natural Resources. The DLNR commissioned the study after two people were killed by sharks in Maui's waters in 2013.
Civil Beat created this animated map of shark bites from a list compiled by the Hawaii Department of Land and Natural Resources.
In the last three years, the number of shark attacks in Hawaii has tripled compared to the number of attacks 10 to 15 years ago, according to a comprehensive list of shark incidents maintained by the DLNR.
And, since 2012, more than 60 percent of all shark attacks in the Aloha State occurred just off Maui.
All fatal shark attacks in the last 20 years in Hawaii have occurred near Maui, and three of those happened in the last three years.
The most recent attack was in April. A 65-year-old woman was killed by what is presumed to have been a tiger shark as she was swimming off Makena. The incident made headlines worldwide.
Meyer and his UH colleague Kim Holland —> Read More