Will 2015 Be Remembered as the Breakout Year for Transhumanism?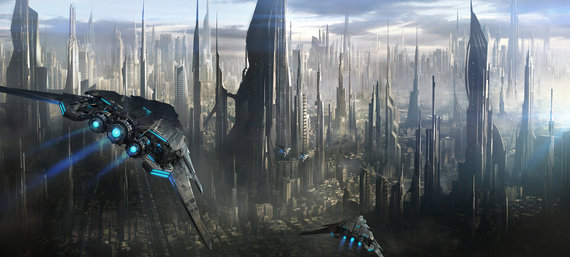 Depiction of a futuristic transhuman city — Image by Jonas de Ro
Last year, I wrote that 2014 was a great year for the transhumanism movement. But 2015 was simply incredible — it might end up being called a breakout year. I'm not yet willing to declare transhumanism as "mainstream," but it's getting quite close now. Transhumanism has become a word that is used frequently by people around the world and in major media when discussing radical science and technology changing our species.
Below is a quick recap of some select stories in English that came out this year on transhumanism and some of my efforts to bring the future closer.
Let's start with what might end up the most in-depth story on transhumanism ever written. The Verge sent journalist Elmo Keep to ride on the coffin-shaped Immortality Bus. Two months later a behemoth 10,000+ word piece appeared, leading the front page of the site for a few days. The article was also translated into numerous languages. Photographer Nancy Borowick astonished us with amazing photos of transhumanist activism. Then, Digg ran the story and had a chat session on the piece with the author.
While much appeared on video about transhumanism, perhaps the most viewed clip was by the always entertaining Good Mythical Morning YouTube show, starring Rhett James McLaughlin and Charles Lincoln "Link" Neal III. Combined with various outlets, their piece on transhumanism (and my presidential campaign) has garnered around two million views.
I got plenty of criticism this year from religious people for my atheist writings, but as I always try to point out, the secular community is still larger than the transhumanist one. And if a movement like transhumanism —> Read More