Will Gaia Be Our Next Big Exoplanet Hunter?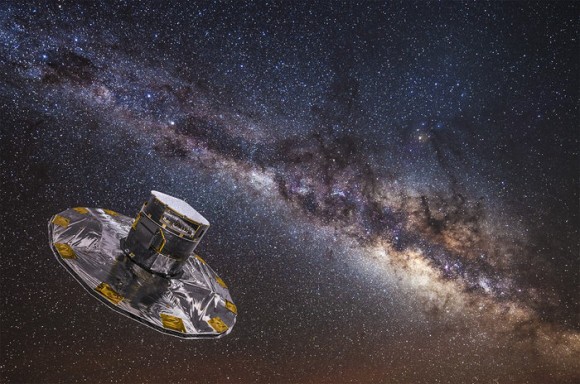 ESA's Gaia is currently on a five-year mission to map the stars of the Milky Way… but it will also locate many exoplanets, too! Image credit: ESA/ATG medialab; background: ESO/S. Brunier.
Early on the morning of Dec. 19, 2013, the pre-dawn sky above the coastal town of Kourou in French Guiana was briefly sliced by the brilliant exhaust of a Soyuz VS06 rocket as it ferried ESA's "billion-star surveyor" Gaia into space, on its way to begin a five-year mission to map the precise locations of our galaxy's stars. From its position in orbit around L2 Gaia will ultimately catalog the positions of over a billion stars… and in the meantime it will also locate a surprising amount of Jupiter-sized exoplanets – an estimated 21,000 by the end of its primary mission in 2019.
And, should Gaia continue observations in extended missions beyond 2019 improvements in detection methods will likely turn up even more exoplanets, anywhere from 50,000 to 90,000 over the course of a ten-year mission. Gaia could very well far surpass NASA's Kepler spacecraft for exoplanet big game hunting!
(…)
Read the rest of Will Gaia Be Our Next Big Exoplanet Hunter? (323 —> Read More Here