Wolves in a Tangled Bank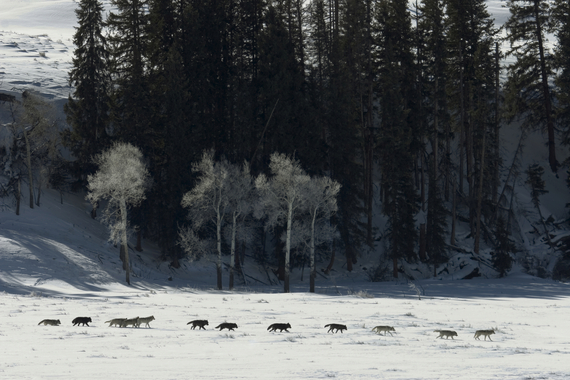 The wolves' return to Yellowstone and the subsequent recovery of plants that elk had been eating to death in their absence has become one the most popularized and beloved ecological tales. By the 1920s humans had misguidedly wiped out most of the wolves in North America, thinking that the only good wolf was a dead one. Without wolves preying on them, elk and deer (called ungulates) exploded in number. Burgeoning ungulate populations ravaged plant communities, including aspen forests. Decades later, the wolves we reintroduced in Yellowstone hit the ground running, rapidly sending their ecological effects rippling throughout the region, restoring this ecosystem from top to bottom.
Reintroduced wolves in Yellowstone National Park
Yet today scientists caution that this story is more myth than fact because nature isn't so simple.
For decades scientists have been investigating the ecological role of wolves. In his 1940s game surveys, Aldo Leopold found ungulates wiping out vegetation wherever wolves had been removed. He concluded that by controlling ungulates, wolves could restore plant communities and create healthier habitat for other species, such as birds.
Since Leopold's time, many scientists have studied food web relationships between top predators and their prey–called trophic cascades. In the 1960s —> Read More Here