Workers Just Unearthed A Centuries-Old Time Capsule Buried By Paul Revere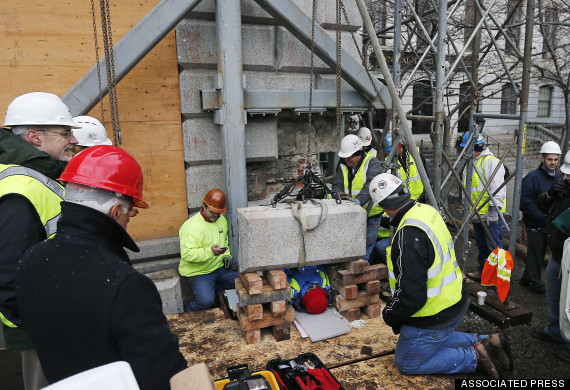 A chance discovery by a group of repairmen in Boston has led to the unearthing of a centuries-old time capsule, believed to have been buried there in the 1790s by Paul Revere and Samuel Adams.
The antique time capsule, which had been placed in a cornerstone of the Massachusetts State House, was discovered this week when workers who had been repairing a water leak at the building stumbled upon it, CNN reports.
Museum of Fine Arts conservator Pamela Hatchfield was promptly called in for her expertise, and on Thursday, after about seven hours of painstaking, backbreaking work, she — with the help of several workers — successfully extricated the almost cigar box-sized container from its burial place.
"I feel happy and relieved and excited," Hatchfield told the Associated Press after the time capsule's successful removal, "and really interested to see what's in this box."
Massachusetts officials work to remove the time capsule from the cornerstone on Thursday, Dec. 11, 2014.
The time capsule is believed to have first been buried at the State House in 1795 by revolutionary war hero Paul Revere and Samuel Adams, who was the governor of Massachusetts at —> Read More Here