You Need to Know: Where the 2016 Presidential Candidates Stand on Food Policy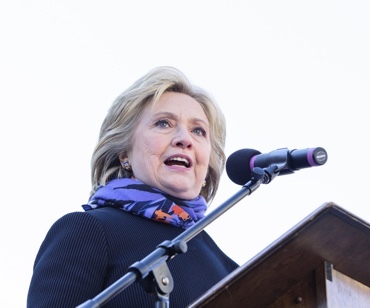 At this point in the campaign race, we know the candidates' beliefs on issues like war, immigration and Wall Street. But what about food?
I wrangled all the information I could find–from tweets to votes–to see where the candidates stand on issues of food policy. Keep in mind, I'm not saying who's right or wrong, just pulling together quotes and votes to help us understand how each candidate views the issues.
If I have noted "No public comment available" but you know of a public comment, please add it to the comments below with a link to the original source.

Hillary Clinton
On food security: Clinton has tweeted: "What happens to kids in families cut from unemployment insurance & food stamps? They're #2SmallToFail, & deserve an equal chance to succeed."
She plans to double funding for the Farmers Market Promotion Program and the Local Food Promotion Programs to support Supplemental Nutrition Assistance Program (SNAP) recipients' access to fresh food.
On climate change: After the Paris Agreement in December 2015, Clinton released a statement, saying: "This is an historic step forward in meeting one of the greatest challenges of the 21st century–the global crisis of climate change… We cannot afford to be slowed by the climate skeptics or deterred by the defeatists who doubt America's ability to meet this challenge."
On fracking: According to Grist, "She's all for it. She says it needs to be conducted and regulated properly so it doesn't cause excessive environmental harm, but she believes that can be done. Which puts her totally in line with President Obama, and out of line with most of the environmental community."
On farm subsidies: According to Ballotpedia: "Clinton voted in favor of an amendment to HR 2419 – Food, —> Read More